Background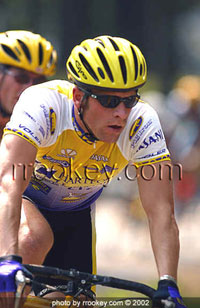 For those of you that know Keith, you know he is a funny, smart, extremely friendly guy with a passion for biking and the belief that your life is what you make of it. For those of you that don't know Keith, you would love him.
As you might know... Keith started feeling a little off at the beginning of 2002. The diagnosis of Hodgkins Lymphoma (cancer) did not come until November of that year. Shortly thereafter, the battle began. For about a year, his treatment consisted mainly of chemotherapy which was a roller coaster ride of ups and downs. At times it seemed Keith was beating the illness. He rode as much as he could, worked as much as he was able, and hung out with friends and family, but later in 2003 it was realized that Keith's overall situation was deteriorating.
Keith was fortunate enough to be accepted for treatment at the Dana Farber Cancer Institute in Boston. They determined, mainly due to the lack of response to chemo, that a Bone Marrow Transplant (BMT) would be necessary. Family members were tested to see if they could be the bone marrow donors. Keith's siblings, Laura and Chris, matched each other, but not Keith. The reaction to this situation was typical for the Dude: "Yet another thing to make me believe I'm adopted..."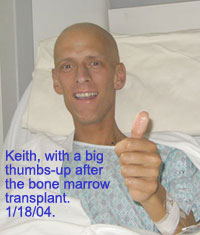 . Eventually a match was found in an unknown 20 year old male.
With his sense of humor intact, Keith checks into Brigham & Women's Hospital (partners with Dana Farber) on 12/18/2003 for the BMT process. Keith endures a grueling 5 days prior to the transplant which consists of 2 days of intense chemotherapy and 3 days of radiation, two times a day. On Christmas Eve, 2003 the transplant takes place and the waiting begins to see if his body will accept the new immune system and beat the cancer.
Since the BMT, Keith's strength and will to live has been put to the test multiple times by complications of the BMT, and he continues to prevail. He's had to battle Veno-occlusive Disease (VOD) which is a blockage of the small veins in the liver. This in turn affects his kidneys and he is placed on dialysis for a period of time. As there is no specific treatment for VOD, Keith agrees to receive a study drug. Weak, but in good spirits, on 1/22/2004 he is discharged and returns to CT.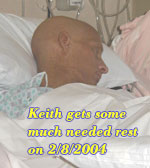 Keith's determination is tested again when on the morning of 1/24/2004, he has a seizure at his brother Chris' house in Old Lyme CT and is rushed by ambulance to a local hospital. The doctors there speak with the doctors at Dana Farber and it is decided that Keith should return to Boston that evening. Upon transferring beds in Boston, he is faced with another seizure, and then what the doctors believe were continual mini-seizures over the next few days. Following days of tests, doctors determine that Keith has an infection and inflammation in the back of the brain and is diagnosed with Viral Encephalitis. Luckily, Keith's long term memory does not seem to be affected, but his short term memory is. He is placed on medication for the infection and appears to be improving ever so slightly as the days progress. Next, it is discovered that Keith has a build up of fluid around his heart. Doctors are reluctant at first to attempt to go in and drain it due to his low platelets, but eventually they have no choice as the fluid continues to build. Fortunately, this procedure goes well. Then there are the smaller, but not insignificant issues he's had to deal with such as the Nasogastric tube passed through his nose to relieve the distension in his stomach, sores on his back and feet, a Peg tube surgically placed directly into his stomach for nutrition, and recurring fevers.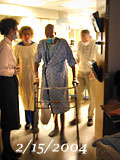 Keith has had to and still is enduring the biggest battle of his life, but he does so with determination and a
positive attitude just as anyone would have expected given his dedication to racing and life in general. No matter how bad he feels, during each visit, a bit of Keith's familiar humor presents itself and his face breaks out in a smile - He's got a great smile!!
Now you've been brought up to date on the Dudes status up to 3/2004 in case you weren't previously. For updates beyond this, check out the STATUS UPDATES page which will keep you posted on his progress. This will not necessarily be a day by day recap so keep checking. Please feel free to visit the GUEST REGISTER as well and drop him a note. He loves hearing from family and friends and has also appreciated the kind words from those people he doesn't know personally.